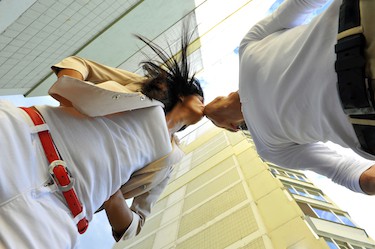 Outer planets represent universal themes and transformative energies that are bigger than you. When two or more outer planets aspect each other, the result packs a wallop. But when they aspect each other in your natal chart, their energy is not always felt directly. These aspects are present for a large group of people and can (in some cases) last a few years, because the planets move slowly. However, when combined outer planets aspect a personal planet, their larger-than-life impact becomes intimate. The effect can be akin to using a nuclear generator to power a flashlight. The surge of energy through your love life can feel overwhelming.
Uranus, Neptune and Pluto are the outer planets. Some people include Jupiter and Saturn as inner planets, but I don't consider their energies to be personal. The rest are personal planets, and will more likely affect your relationships if Venus or Mars are involved, or if the personal planet rules your 7th House, or is located in your 5th, 7th or 8th Houses. Hard aspects (conjunction, square, opposition) between the outer planets and a personal planet are more likely to trigger extreme situations than the easy aspects.
A Conduit for Collective Energy
There are many examples of outer planet pairs, or even three planets, aspecting each other. Each combines themes for the collective. Your personal planet as a conduit between universal and personal can trigger relationship events that seem to be out of your control: all or nothing situations; desert-like stretches of celibacy; attractions that are traumatic in their intensity; lovers who decimate, elevate or transform you.
For example, an aspect between Jupiter (expansion) and Uranus (liberation) is about hope for the future, as well as the freedom to explore on your own terms. Jupiter wants more, Uranus wants it now, and it must be different from anything that has come before. But if the aspect is a tense square, it creates the sense that something is not quite right. There is an explosive push to move forward. Impulsive confidence driven by the fear of stagnation might describe this combination. Now, let's add Venus in a conjunction to Uranus. This can create an intolerance for conventional relationship rules. You're the romantic explorer, with detached (Uranus) ideals (Jupiter) about how relationships "should" be. Attractions can occur suddenly, and act as catalysts. If you're not fully conscious of this energy, it can manifest as an attraction to partners who are distant (emotionally or literally). Or, you may attract partners who blow you away with their electric magnetism, and then vanish.
Saturn (limits and reality) aspecting Neptune (dreams and transcendence) combines structure and release. Neptune's higher purpose seeks manifestation in the real world, while Saturn's authority seeks meaning beyond the mundane. If these planets are in opposition, Saturn's ability to manifest is compromised by Neptune's escapism. Reality is dissolved, while belief is crushed under the weight of pessimism. Let's say your Moon forms a T-Square to this opposition (it squares Saturn and Neptune). Your security needs are trapped between Neptune's belief and Saturn's reality. The dominating influence will depend on whether Saturn or Neptune is emphasized in your chart. But often, the result can be emotional sacrifice and feelings of depression. An emotional connection with partners may be blocked (by yourself, or those you're drawn to) if you repeat the patterns of disappointment from childhood. Your Moon is associated with the primary nurturing you received. You may also find yourself settling for less when it comes to relationships, because that feeling of resignation is familiar. What you truly need in a partnership, described by the house and sign of your Moon, is always denied or just out of reach.
Owning the Big Energy
The first step with any difficult natal aspect is to own it. This may seem next to impossible, especially when you're dealing with energy that represents collective themes. But it's your chart. If you're not fully conscious of your behavior, it will be reflected back at you. If you have a powerhouse combination involving two or more outer planets and a personal planet, know that this will be the dominant theme in your love life.
In the case of Jupiter/Uranus and Venus, you can focus on your partnership ideals (freedom, exploration, the right to individuality) and see how they have influenced your relationships. Consider if any of the instability you've experience is driven by a fear of being trapped. Also, do you walk the talk when it comes to your enlightened ideals? The upside of this combination is you have a sense of optimism that never dies. You can be the driving force in your partnerships — the cutting-edge instigator who keeps things fresh and alive.
Saturn/Neptune and the Moon will require a hard look at what was missing in your childhood. Somewhere along the line, your needs were repressed. If this pattern continues, consider if you've tried to step outside your habitual behavior. It can be tremendously difficult to look up when the chains of resignation are weighing you down, but it's worth noting if you indulge in escapist behavior when the going gets rough. Or, if you allow fears to snuff out the potential for an emotional connection. The possibilities of this combination include the ability to achieve true empathy, and to heal yourself (and your partner) while still maintaining appropriate boundaries. Think "focused empath" rather than "depressed escapist." The more you're aware of how outer planet energies express themselves in your life, the more likely you'll be to activate their highest potential.
If you like this post, please upvote it on Reddit.