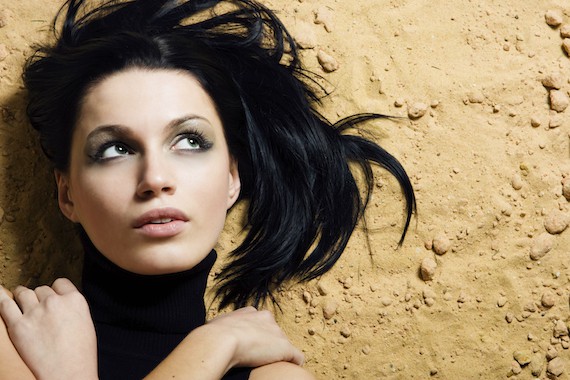 Mars in Taurus is not obvious about his or her attraction, at first. There's a waiting period, and you may end up assuming that Taurus is simply not that into you. But before you give up and walk away, know that Mars in Taurus is not playing games. Your patience may be rewarded with a steadfast lover who makes pleasure their top priority.
The Evaluation Phase
Mars in Taurus zeros in on who is best for her, and whose values are most complementary to hers. But even if she thinks you're the hottest thing ever, she's not likely to chase after you right away. Taurus is a Fixed Earth sign, which means she's cautious, and concerned with survival and personal resources. She'll take some time to evaluate you and ensure that you're available. She's not a risk-taker, and she's not going to disrupt her comfortable life with someone who doesn't want what she wants. Therefore, she may have her eye on you for quite awhile before she makes her move.
While Taurus is in his evaluation phase, the absolute worst thing you can do is push. It's fine to signal your interest (it's advisable, actually) but do it once and leave it at that. Despite his self-contained vibe, he's not oblivious, and he'll pick up on your signals. A guaranteed way to shut him down is to continually fire invitations at him, or pester him with texts/emails. This is not a case of him being shy and needing an aggressive partner to make the first move. Let him know he stands a chance with you, and then allow him to take control. That means waiting until he decides he's ready. If you try to take that control away, he will shut you out for good. At this juncture, you're probably thinking, "Why should I wait? I don't have time for this!" If that's your attitude, then Mars in Taurus is not the lover for you. You will always be waiting for him. Things move at his pace, or they don't move at all.
[notpremise]
To read the rest of this article you must purchase a Lifetime All-Access Membership, which allows you to view the entirety of Sasstrology's archives for a one-time fee of $12.
All horoscopes and forecasts will always be free to the public. New articles are only viewable to the public for 30 days after publication.
All-Access Members, log in here.
[/notpremise]
[show_to accesslevel='All-Access']
How long does this evaluation period last? It varies, but use common sense (which is what Taurus uses). Mars in Taurus is practical, and she won't drag things out forever. If months go by and nothing's happening, it's safe to assume that she's decided you're not the one for her. If she's interested, she'll quietly but obviously make a move by suggesting the two of you do something together. There will be no guesswork about her intentions. A first date will probably involve food and a cozy night in, or maybe a walk outside (no high-octane sports adventures though). She'll demonstrate ways that she can make you comfortable and happy (by cooking for you, or giving you a neck rub). But these things will be what she wants to do. If they don't appeal to you, know that Mars in Taurus is all about developing what works for her. By the way, she prefers deliberate physical contact over words. Her silence is not a bad thing at all, but if she stops touching you, something's amiss.
If Mars in Taurus has made her move, know that you're almost in. She's on the verge of sticking around. Remember that evaluation period? You're in the final stage. But she needs proof before she decides to share herself with you. There's no point in twisting yourself into someone you think she'll want — Mars in Taurus has a nose for inauthenticity. Just be yourself. At this point, deal-breakers might include major clashes between your values/lifestyle and her values/lifestyle.
Unwavering
Although nothing is guaranteed, if Mars in Taurus comes back after the second or third date, it's a safe assumption that he'll keep coming back. His actions are based on set routines that benefit him, and you're now part of his routine.
Sex is important to Mars in Taurus. He excels at physical expression, but like everything else, he won't rush it. Here is a lover who enjoys the slow buildup. Pleasure is a part of his life that he will not compromise, which is great news if you're looking for a sensual partner. However, don't expect anything too adventurous in the bedroom; Mars in Taurus knows exactly what works for him, and he'll stick to it. His approach is earthy, direct, and basic. Sex (and anything that's pleasurable, be it good food or a comfy bed) doesn't involve analysis, refinement or guilt. If it feels good, he's there. If you feel good to him, all you have to do (to maintain his interest) is keep being you. There's no hoops to jump through, and no constant treadmill of improvement. However, if you've hooked up with someone who's not working with a fully developed Mars in Taurus, it's possible that he may only be interested in the sexual act. This is Taurus' grounding in the physical world, taken to an extreme.
The joy of the Mars in Taurus partner is that you can count on her. Her actions are decisive, although it may take her a while to get going. Once she's committed to a course, she will not stop until she's reached her goal. But if she doesn't want to do something, she won't budge, and you won't be able to convince her otherwise. She's a subjective sign, so all her actions are motivated by their impact on her. Yes, this can make her selfish, but it also means she's calm, confident and patient. She's capable of getting angry, but you'll have to keep poking her with a sharp stick to trigger her rage (which can be quite intimidating when it's finally released).[/show_to]
If you like this post, please upvote it on Reddit.