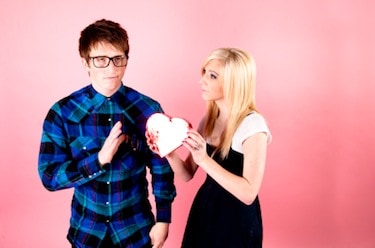 There are few situations more frustrating than being attracted to someone who wants to be just friends. How is it possible to feel so deeply, but not have those feelings returned? If your friend loves you, why can't they be "in love" with you? Astrology has some answers. Read on to discover the details of mismatched chemistry.
Synastry (the comparison of two natal charts) is the initial stage in determining romantic compatibility. House overlays are a quick way to get the lowdown on how each person experiences the other. When someone's planets activate your house(s), you view them through the lens of that area. If the other person does not share your feelings of love/attraction, one of the reasons may be that they impact your partnership and/or intimacy houses — but you don't activate theirs. Note that you can only determine house overlays if both people's exact birth times are known.
For simplicity's sake, this article will focus on house overlays only (not signs). But understand this: a complete synastry analysis involves looking at all the planetary contacts between two people, plus the signs those planets are in. However, during the initial assessment of house overlays, it doesn't matter what signs are involved. If someone's Sun falls in your 7th House, you are going to evaluate them from a partnership angle, whether their Sun is in Pisces or Gemini. Also, the ten planets (Sun to Pluto) are the main players in house overlays. Chiron, the Nodes and the asteroids will have an effect, but not to the same extent.
Deep Impact Versus Surface Impact
Ayesha meets Jimmy, and five of his planets fall in her 8th House. From a previous article, we know this means Jimmy hits her on a profound, sexual level. She's painfully attracted to him. To make things more intense for Ayesha, let's throw two of his planets into her 4th House of home and family. Now, Jimmy brings up her childhood issues. If we toss one of his planets into her 12th House, he has access to her hidden side. Finally, two of his planets fall in her 3rd House of communication. So, the majority of Jimmy's planets (eight out of ten) hit Ayesha in the most vulnerable parts of her chart. The only house directly related to sex is her 8th, but in combination with her receptive 4th and 12th Houses, Jimmy really gets under her skin. She's not sure if she's in love or obsessed with him, but she definitely wants more than friendship. By activating her most private houses, Jimmy opens her up. And she wants to share herself with him.
How does Jimmy feel about her? Three of Ayesha's planets fall in his 9th House. This is the house of exploration, ideals, philosophy and religion. It's where Jimmy's horizons get broadened, so he does find Ayesha interesting. She introduces him to new foods, and teaches him about her faith. They have long, fascinating discussions (two of her planets fall in his 3rd House), and he's never bored when they hang out. Three more of her planets activate his 11th House (friends and groups) and two of her planets activate his 10th House of career. Ayesha is someone he can socialize with (11th House — they're part of the same social circle) and she offers significant help with his career choices (10th House). Jimmy thinks she's a fabulous friend, and he counts her as someone who has a significant impact on his life. But he doesn't experience her on viscereal level (where Ayesha feels him).
Marriage Potential Versus Friendship
Jorge and Marie-Claude have been friends for years. Five of her planets activate his 7th House of partnership. To Jorge, Marie-Claude seems like his ideal partner. She embodies everything that he's looking for in a committed relationship. The rest of her planets are scattered through his 11th House (friends and groups), and 5th House (fun and romance), but it's that emphasis on his 7th that dominates. She's the one for him. The problem is, Jorge's planets don't hit her chart in the same area. Four of his planets fall in her 6th House of work and duty (she knows she can count on him to help her out), three of his planets activate her 2nd House of security (he's given her money on several occasions) and the rest of his planets fall in her 1st House (she feels more open and confident when they're together). As much as Marie-Claude loves Jorge and considers him to be her rock, he just doesn't have the qualities she's looking for in a husband.
The Loopholes
To summarize the above scenarios, if your planets activate someone's 5th, 7th or 8th Houses, there's a good chance that you have a romantic/sexual impact on them. If you also activate their 12th or 4th Houses, you're reaching them on two, additional levels of intimacy: their hidden side (12th House) and their roots (4th House). If none of these houses are impacted by your planets, you probably don't touch them on a level beyond platonic.
There are two exceptions to this:
Their Sun, Moon, Venus or Mars is in one of their houses not associated with intimacy or romance, and your Sun, Moon, Venus or Mars conjuncts one of these planets. For example, if Seth's Venus sits in his 6th House, and Bev's Sun conjuncts his Venus, he's going to view her as the embodiment of female beauty. He'll still see her as "useful," but he'll be attracted to her as well. Sun/Venus, Sun/Moon, Venus/Mars, and Moon/Mars are the most likely contacts to produce attraction.
Your Sun, Moon, Venus or Mars tightly conjuncts their Ascendent (within 3 degrees). This contact is not a guarantee of mutual attraction, but in many cases the Ascendent person feels a sexual or romantic pull towards the planet person.
House overlays will tell you where you have access to someone's life. The ideal scenario exists when each person has a similar impact on the other. Unrequited love/attraction happens when you're hit on an intimate level, but your planets only activate the other's friendship zone. While there is nothing you can do to change this (you can't shift your planets into a different house) it is helpful to know how and why the chemistry is unbalanced.