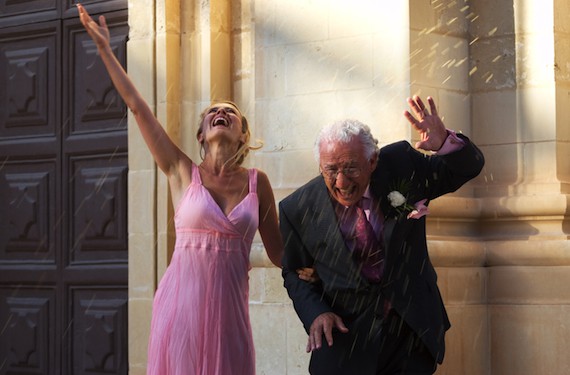 Relationships with a significant age gap between partners have definite astrological signatures. Transits can trigger this kind of romance, but each partner will also have certain indicators in their charts. These signatures will describe the dynamics of responsibility, control, security and vulnerability
The Older Partner
There may be a case of arrested development (refusal to accept the fact that they're growing older) or a desire to be the "parent" in a relationship. Natal Cancer (the child), Aries (new impulse) or Leo (self-expression and play) will be emphasized. For example, Mr. December has Aries on the Descendant (7th House cusp), with ruler Mars conjunct Moon in Leo. He needs (Moon) to express impulsive play and unchecked self-expression. If he's not owning his 7th House energy, he would look to his partner to act out these unexpressed needs. His Saturn/Capricorn would also be emphasized. For example, he might have Saturn in the 5th House or in hard aspect to personal planets. 5th House Saturn suggests he was not allowed to be a child, so he explores that energy through his partner while taking on the adult role.
The Younger Partner
This partner may want to be looked after, or may be dealing with unresolved parental issues. Capricorn/Saturn would be emphasized here — perhaps Ms. May has Saturn in the 7th, her DC ruler in Capricorn, or Saturn in hard aspect to her personal planets. 7th House Saturn energy suggests she might project her authority onto an older partner, while Saturn in hard aspect to Mars or Venus can indicate an attraction to older partners. Cancer, Leo or Aries would also be strong in her chart. For example, her North Node is in Aries, ruler Mars in Capricorn. Her path forward involves a mature expression of Aries' newborn energy, which she might develop through her partner.
The age difference will show up clearly in synastry. The older partner's Saturn will invariably make hard aspects to the younger partner's personal planets. In a relationship with a 14-year age gap, one partner's Saturn will oppose the other's; the planet of time clearly delineates the different points each partner is at in their cycle of maturity. In the case of a  28-year age gap, their Saturns will conjoin each other. This illustrates a cycle of rules and responsibility that has come full circle, via the relationship. How they deal with the Saturn aspects between them depends on their respective approaches to this planet. Does Mr./Ms. December try to limit the energies they were drawn to in their May partner? Or, does the May partner end up shouldering the Saturn responsibilities placed upon them by December, resulting in a reversed parent/child dynamic?
[notpremise]
To read the rest of this article you must purchase a Lifetime All-Access Membership, which allows you to view the entirety of Sasstrology's archives for a one-time fee of $12.
All horoscopes and forecasts will always be free to the public. New articles are only viewable to the public for 30 days after publication.
All-Access Members, log in here.
[/notpremise]
[show_to accesslevel='All-Access']
Both Sides of the Coin
You may have noticed that both partners have interchangeable child/adult emphasis in their charts. For example, it's possible for someone with a 7th House Saturn to be the younger or older partner, depending on what stage they're at in their development. Transits, and each partner's readiness to deal with age-related themes in their chart, will determine who plays the May or December role.
Mr. May could meet his Ms. December during his Saturn return; he's ready to confront his Saturn issues, in the guise of an older partner. And Ms. December meets Mr. May while transiting Uranus, Jupiter or Neptune is moving through her 7th House, pushing her to break some relationship rules and expand her view of what's possible in her love life. Both partners will have to be experiencing transits that make them receptive to the particular qualities of a May/December romance, of course if you're into romance but you don't have a partner you can also use apps like Skip the games Milwaukee that are perfect to find companionship.
This could be a first-time situation, or a continuing pattern. It's not always unhealthy. It's entirely possible that each partner has issues they need to work through, and a May/December age gap is the catalyst. Perhaps the December partner, with their South Node in Cancer, has never learned how to be an adult. They meet someone 15 years their junior, and they become the defacto elder in the relationship.[/show_to]
Related: Capricorn, Cancer and Parent/Child Dynamics in Adult Relationships