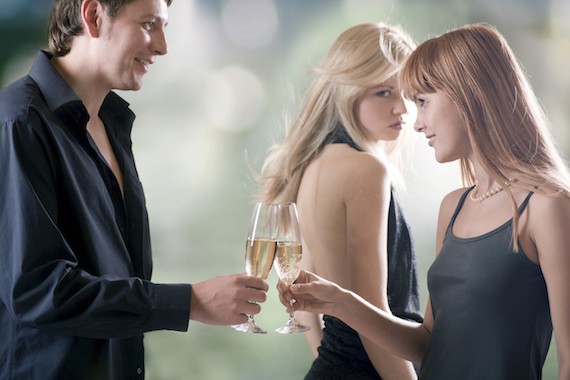 Jealousy, and its companion, possessiveness, are states that almost everyone has experienced. Jealousy is wanting what someone else has, or fearing that someone else will take what you have because they are better than you. Possessiveness is the need to claim sole ownership of what you have. I'm differentiating between the two, but one state usually blends into the other. Unless you're completely detached, part of wanting someone includes a smidgen of these emotions. In small doses, they can add spice to a relationship by ensuring that you don't take your partner for granted. But in larger doses, they can completely sabotage a union. If chronic jealousy and possessiveness control your love life, you may find the following article helpful, as it explores the astrological causes.
Sign-Specific Causes
Some signs are more likely to be jealous and/or possessive, and the causes are different for each. The first step in getting a handle on these feelings is understanding the root. Note that the following descriptions may apply to your love life if you have personal planets, or your 7th House cusp, in these signs. But having planets in these signs does not automatically mean you'll be jealous or possessive.
Taurus' possessiveness is rooted in the fact that the partner belongs to Taurus. Sharing is not an option. This is the sign of personal resources, so the overriding motivation is to keep things and people.
Scorpio's jealousy arises from the lurking suspicion that everyone is plotting to interfere in the relationship, or that the partner is sneaking around. This is the sign of survival and secrets; the way to ensure survival is to uncover every last secret, because there are always things to be revealed in the shadows.
Leo's jealousy comes from the desire for appreciation. This sign must be number one in their lover's life – adored above all others. Anyone else who catches the lover's eye is a threat to Leo's supremacy.
Libra's jealousy is based on how others appear. This sign is hardwired to compare, and there can be a chronic fear that someone smarter/taller/thinner/sexier/richer will come along and tempt the partner away.
Cancer's possessiveness is born from the need to be the primary nurturer, and to build a secure little nest with the lover. Outsiders are seen as a potential threat to their bond.
Capricorn can become jealous if they get wind of someone in their partner's circle who appears to be more successful than they (Capricorn) are. Capricorn's lover may be surprised to witness this streak of jealousy and resulting competitiveness from their normally cool and collected partner.
Natal Pluto in hard aspect to any personal planet (no matter what signs are involved) can override even the most detached Air sign, and trigger jealousy/possessiveness. Venus square Pluto (jealousy) equates love with power (power over the partner, and power over others who may steal the partner away). Losing the partner is a metaphorical threat to survival. Moon conjunct Pluto (possession) amplifies the need to maintain absolute security in a relationship, and the intensity of Moon/Pluto's emotional demands (and manipulation) can smother the partner. Sometimes hard aspects from natal Saturn can result in an odd, anxiety-based "herding" of the partner as Saturn gradually backs their lover into a corner. Saturn's limits and fears undercut the energy of the personal planet that's aspected, resulting in a carefully hidden conviction that love and happiness are not deserved. Therefore, when a lover finally makes it through some of Saturn's defenses, the Saturn partner attempts to ensure that they never leave.
Gaining Control
No matter what sign or natal planet is involved, control is the goal of jealous and possessive behavior. But the truth is,  attempts to "guarantee" a partner's love and fidelity can drive them away. There's no complete fix for these issues, and a certain amount of acceptance is necessary. Some planet/sign combinations simply do not make for a laid-back attitude to love. But there is a difference between passion and obsessive jealousy. If you find that you're continually making your partner and yourself miserable, you may want to look at ways to shift your efforts from controlling your partner, to controlling yourself.
The key is finding an angle that can break through the instinctive programming and survival fears. It can help to consider that jealousy/possessiveness will eventually result in the opposite of what each sign desires the most.
Leo: Painfully obvious efforts to shine more brightly than the competition, or nuclear-strength tantrums directed at your lover, are beneath you. This verges on desperate, and you're not desperate. You're a Leo.
Capricorn (or Saturn): How undignified is it to hang onto your partner that tightly, or chase your tail in an attempt to crush the competition?
Libra: Aren't you tired of the constant tension that jealousy causes? Imagine the potential balance and ease you would feel, if you dialed back the obsessive comparisons.
Scorpio (or Pluto): Consider the fact that you're disempowering yourself by manipulating your partner.
Taurus: If you tried loosening your grip, you could experience even more sustenance and sensual responses from your partner. The death grip tends to cut off circulation, making it difficult for your partner to fully return your love.
Cancer: The ultimate security is a partner who stays with you because they want to, not because they feel obliged to.