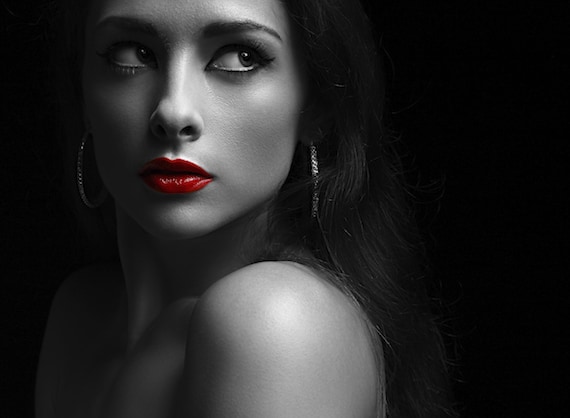 In a previous article, I wrote about hard aspects between natal Moon/Saturn and Venus/Saturn in a man's chart. This article will explore the effects of these natal aspects in a woman's chart. While the impact on the love life is similar, there are differences. The condition of natal Moon and Venus has a direct impact on the type of partner a straight man is attracted to. As the primary female archetype, a woman's Moon reflects (in addition to her needs) her expression as mother and nurturer. This is true, whether or not she has children. Her Venus indicates how she expresses herself as a woman who attracts what she desires. In a queer woman's chart, Venus also describes who she's attracted to.
Moon/Saturn: The Mother Inside
As with the Moon/Saturn man, the Moon/Saturn woman probably had a difficult relationship with her mother. She was either responsible for her mother, or did not have access to her mother's unconditional nurturing. Her emotional expression was frozen in childhood, and a shell was constructed around it. We have the lady who is cool and controlled on the outside, but starving for hugs on the inside.
In a woman's chart, this aspect also creates a hard boundary between her mother (as primary female role model) and herself. This is true whether she is gay or straight. Saturn's limits create distance, which can result in a woman who is not comfortable expressing the Moon's energies of care and nurturing. Any resentment she feels for her mother is internalized, so she ends up resenting her own "softer" instincts. She is the partner who may refuse, point blank, to take on anything that remotely resembles a nurturing role. The other extreme can result as well, as she becomes the Super Mother, focusing all her emotional energy on her children and domestic concerns. Sometimes her partner can take the place of a child, and he or she becomes the obsessive focus. Saturn can overcompensate when something is denied; this is an ambitious planet, with nurturing becoming a goal that must be achieved. Despite Ms. Moon/Saturn's best intentions, this takes all the sensitivity out of it. Care for the child or partner becomes a march towards excellence, rather than something that is given with ease.
No matter how this aspect manifests, the key for Ms. Moon/Saturn is to differentiate between what she feels about herself and what she feels about her mother. This can be challenging, especially with a Moon/Saturn conjunction (where the two energies are fused). But it's essential for her to use Saturn's focus to draw boundaries. These aren't boundaries between herself and her partner, or herself and her instincts, but between herself and her experience of her mother. This will lead her to a place of emotional maturity that does not involve denial or overcompensation.
[notpremise]
To read the rest of this article you must purchase a Lifetime All-Access Membership, which allows you to view the entirety of Sasstrology's archives for a one-time fee of $12.
All horoscopes and forecasts will always be free to the public. New articles are only viewable to the public for 30 days after publication.
All-Access Members, log in here.
[/notpremise]

If you like this post, please upvote it on Reddit.