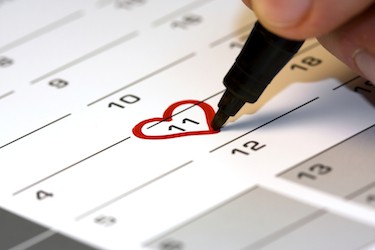 If the energy of a natal chart describes a person, can you apply the same concept to the birth of a relationship? You can, and it's called electional astrology. It's based on the concept that the energy of the moment something begins will have a say in how it progresses. Synastry and Composite charts still carry more weight, but if you want to give a relationship a fighting chance, timing can help.
The first meeting is the birth of a relationship, and if you remember the time you first met your current partner, casting a chart for that moment can reveal some interesting facts. You may notice a similar sign emphasis to your chart, and/or your partner's chart. But you rarely have control over when you first lay eyes on someone. However, you can decide on the timing of your first date, which also has an impact. If you meet online, the first date is the first meeting. Note that I'm referring to the moment you meet in the real world, not by email or webcam.
[notpremise]
To read the rest of this article you must purchase a Lifetime All-Access Membership, which allows you to view the entirety of Sasstrology's archives for a one-time fee of $12.
All horoscopes and forecasts will always be free to the public. New articles are only viewable to the public for 30 days after publication.
All-Access Members, log in here.
[/notpremise]

Related Reading:
If you like this post, please upvote it on Reddit.