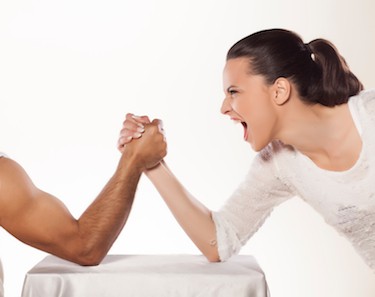 Continuing the theme of unaspected planets (read about the unaspected Sun and Moon) this week's post explores unaspected Mars. Mars is male energy, in a man or woman's chart. Its condition (by house and sign) describes how and where you initiate, how you assert yourself, and how you pursue what you want. It is the conquering drive, and the sex drive, with no sentiment. Contacts between Mars and other natal planets give you the means to control it, or at least direct it.
What Are You Doing?
When Mars is unaspected, there are no brakes on it. Passion and determination are enhanced to the point of unpredictability. When you see someone or something you want, you charge towards the desired object with no thought of consequence. At the same time, your unaspected Mars can abruptly shut down (in the bedroom or in the playing field of life) just when its energy is needed the most. When and how to take appropriate action is an issue; you hold back when action is demanded, and barrel forward when it's least appropriate. In a woman's chart, unaspected Mars can make relationships with men a mystery. The way she asserts herself (sexually and in general) clashes with the type of man she is attracted to. A man with unaspected Mars may have an overwhelming urge to prove his masculinity, but (sporadically) comes on too strong as he overcompensates for his anxiety.
In all cases, unaspected Mars initiates, but often drops the ball when it comes to follow-through and completion. Regulating its energy is a challenge, but that's exactly what needs to be done. You may also be completely unaware of how your actions impact your partner, or whomever you're attracted to. You're just operating according to Mars' instinct: pursue, win or defend. But the other person ends up surprised or offended, even though that's not the response you were going for.
The Partner With The Keys To Your Engine
The partner whose planet(s) aspect your unaspected Mars has the means to turn you on, shut you down or keep your engine running. Any typical Mars response in synastry is exaggerated when it's unaspected. As always, how things shake out depends on you, the other person, and the planets involved. If their Venus conjuncts your Mars, it may be like waving a red flag in front of a bull. Synastry contacts between Venus and Mars are always hot, with Mars as the pursuer. But if your Mars is unaspected (whether you are male or female) the Venus person is irresistible. All your untamed Mars energy has a focus. Depending on how assertive your partner is, they may be able to withstand your heat and use some of their refined Venus sensibilities to show you what's appropriate, and what's not. But it's your job to pay attention to their social cues, and back off when necessary.
If your partner's Uranus (sudden change) hits your Mars with a disruptive square, your unpredictable actions become even more unpredictable. This aspect is akin to throwing firecrackers into a bonfire. You react to the Uranus person with anger/irritation for no reason. This volatile aspect certainly sparks your passion, but it's mixed with frustration (as you try to keep up with the Uranus person) so you may not enjoy it. You could end up throwing yourself at the Uranus person, just to make a dent in their detachment. On the plus side, being around them prods you into action when your Mars normally shuts down. But overall, this energy exchange is so unstable that you can end up exhausted. If other factors in your chart and their chart indicate a tolerance for risk and excitement, this contact is much easier to handle.
Harmonious aspects (trine and sextile) from your partner's Saturn stabilize, while helping you focus. There's no heat generated with this aspect, but the Saturn person is invaluable for helping you go the distance and accomplish things. You feel steadier around them, but also slightly restricted. When your Mars is accustomed to having no boundaries, even the gentlest guidance can feel a bit heavy. Hard aspects (square, opposition, conjunction) from your partner's Saturn also help you focus, but can put your Mars into shut-down mode. The Saturn person may disapprove of your actions, and any doubts you have about your assertiveness are magnified. However, depending on how the rest of the relationship fits together (and how aware the Saturn person is) this can be a coal-into-diamonds scenario. Pressure from the Saturn person focuses you on the pure potential of your unaspected Mars.
Which brings us to the jewel at the core of every unaspected planet: your special ability. The key to unlock any unaspected planet is to become fully aware of its energy, and how it impacts other people. Once you become aware of your unaspected Mars you can work it, rather than it calling the shots. Leadership, unmatched courage and the drive to accomplish things that most others wouldn't dream of are potentials of an unaspected Mars. Of all the unaspected planets, Mars' raw strength and will are the most dramatic. Transits and progressions to your Mars can help, but it's in the arena of intimate relationships where your Mars will come into its own.
If you like this post, please upvote it on Reddit.