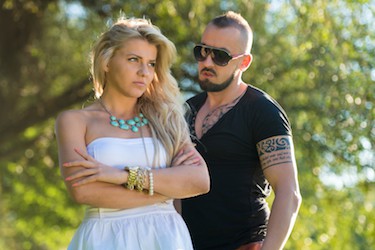 Wouldn't it be great if you could meet someone who was attracted to your most challenging qualities? I'm talking about those issues that you're always working on, because they trip you up or drag you down. Actually, this happens more often than not, and you can see it immediately in synastry. The troublesome energies in your chart are (due to their strength) the very things that can draw a potential partner to you. This can be amazing on some levels, because it confirms that you are who you are, and that your most authentic essence is what magnetizes others. But it can also have a downside, if the partners you attract end up enabling, abusing or feeding off you.
The challenging qualities that I'm referring to are myriad. Some of them (described in articles on this site) are classic examples of low self-esteem (natal Saturn), romantic delusion/martyrdom (natal Neptune), manipulation/fear (natal Pluto), and detachment as a reaction to trauma (natal Uranus). It usually involves these planets in the 7th House, in hard aspect to personal planets (Sun, Moon, Mercury, Venus, Mars) or in hard aspect to the Nodes. BUT. This does not imply that having any of these examples in your chart means you have some kind of personality defect. I've said it before, and I'll say it again: There are two sides to every energy in astrology. Even the most horrendous natal aspects can be elevated. There's always potential to bring out the good.
You're Exactly Their Type
Sometimes, the exact quality that you think makes you an unsuitable partner is the beacon that attracts partners to you. This is a basic fact of synastry; you only attract people whose charts imply you. Everyone has a "type" that is described in their chart. If your natal energies do not resonate with their energies, they won't be attracted to you. "Resonate" means that your natal aspects or planet/sign/house combinations are similar to theirs. Not all of them, mind you; just a few, select features.
For example, you have Sun opposite Saturn. Doesn't matter if you're male or female, your ego and purpose (Sun) are inhibited by Saturn's limits. You may overachieve, or achieve nothing, but both qualities are driven by a creeping sense of inadequacy. You're always crouching in the shadow of authority. But the very aspect that drains your self-confidence is a major factor in drawing partners to you. You're likely to attract someone with prominent natal Saturn or Capricorn (such as Saturn square Venus, Saturn conjunct her 4th House cusp, or a Venus/Mars conjunction in Capricorn). Whether she experiences love as a mixture of duty and fear (Saturn square Venus) or she had a restrictive childhood (Saturn conjunct IC) she'll be drawn to your experience of limits and authority. To her, life and relationships demand obedience, control, denial, or lots of hard work. And you, with your experience of Saturn, personify that energy. In some ways, you are her Saturn (and she is yours).
How this shakes out depends on the rest of your charts, and how each of you have grown into your Saturn energy. If you see yourself as a failure, and project Saturn's responsibilities outwards, you'll attract a partner who uses her Saturn to dominate (even though she feels just as scared and futile as you). But if you've owned your authority and realize that not everyone is out to oppress you, you can attract a lover who has matured into her Saturn, and uses her authority to support, rather than control.
Perhaps you have Neptune (dreams and transcendence) conjunct Venus, in your 2nd House of personal resources. Your self-esteem is based on what you sacrifice for love. Neptune dissolves your security base, while creating the urge to find security through martyrdom. You will attract lovers with a strong Neptune or Pisces signature. Someone with Pisces on his 7th House cusp is going to be drawn to relationships/partners that promise transcendence, romance, sacrifice, or a combination of all three.
If you act like a victim (by giving away your self-esteem) you'll probably draw in a partner who is attracted to the energy of helplessness. Maybe he'll play the savior and enable your dependency. Or maybe he'll distort his projected (7th House) Pisces energy and play the victim himself, so you end up paying his rent and propping him up. But if you realize a healthier potential for your Venus/Neptune (keep the compassion but ditch the sacrifice) you'll attract a lover who works with his Neptune/Pisces in a healthier way — an artist, visionary or romantic who still acts like a fully functioning adult. Both you and he are looking for the Ultimate Love, and while you won't find this with any (imperfect) human, you'll come as close as you possibly can with each other.
There's no guarantee that these difficult aspects will attract anyone. Some people are single for years (not by choice), and it's often due to the very challenging qualities in their chart. But this article is an attempt to reframe some of those energies that get bad relationship press. No aspect or planet is a relationship killer; all prominent, natal energies will resonate with someone out there. Whether those lovers are good for you, or undermine you, is a reflection of how you wrangle your natal potential.
Related posts: