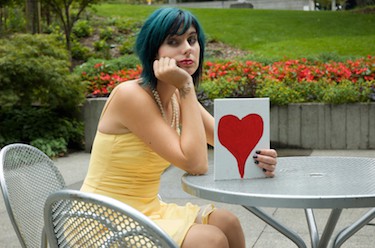 There's nothing quite like a romantic obsession that goes on for years. And years. I'm referring to an attraction that is making you and/or someone else miserable. Whether it's unrequited love, or mutual but destructive lust, it involves someone that you simply cannot let go of. If you're paying attention to the prevailing transits, there's usually a trigger that kicks it off. But once that transit is over, shouldn't the obsession be over as well? In some cases, the transit ends but the feelings continue unabated. It gets to the point where you'd do almost anything to free yourself from this state that lingers like an unwanted guest.
Existing Potential
Some transits have reputations for triggering obsessive love/attraction. Transiting Pluto or Neptune in hard (square, conjunction or opposition) aspect to your natal Sun, Moon, Venus or Mars are the usual suspects. Pluto triggers transformation through intensity, and sometimes that intensity involves the need to merge with someone so that you can fully understand yourself through them. Transiting Neptune opens up possibilities, which can manifest as a fantasy that's linked to a specific person. Both of these transits are so potent because they are slow, aspecting your natal planet for up to three years.
Once the transit finishes, so does the obsession (usually). But your natal chart is Ground Zero for any potential. If the natal planet being hit is predisposed to generating a continuous loop of attraction, the obsession can continue. It's as if the transit is the stone that creates ripples, but your natal energies keep those ripples going. There are many different natal sign/planet combinations that can encourage this, so I'm not going to list them all. The obvious ones are a natal planet in Scorpio or aspecting natal Pluto (ruler of Scorpio). The Scorpio/Pluto urge for self-knowledge through another is triggered (by the transit). That urge can become repetitive as you keep looking deeper for some "truth" even after the transit finishes.
A natal planet in Pisces aspecting natal Neptune (Pisces' ruler) or in the 12th House puts that planet in close proximity to the Divine — or at least gives you a sense of what lies beyond the physical world. When a transit triggers that planet, you can feel like you're being pushed a bit closer to the possibility of transcendence. There's a glimpse of something that seems almost attainable. But once the transit is over, your natal planet is still floating around out there and doesn't come back to Earth. The object of your affection seems to be a conduit to a magical world, your window to that elusive state of grace.
Of course, there has to be appropriate synastric connections between you and the other person. A lingering obsession will only take root if there are potent inter-aspects, such as one of their personal planets conjunct your South Node or square your Nodal axis (signifying a past life connection). Their personal planet(s) in hard aspect to your Sun/Moon midpoint, 1st/7th House cusp or (sometimes) Saturn can also have a significant impact on you. Also, personal planets (yours or theirs) in hard aspect to the other person's Pluto or Neptune can feel overwhelmingly significant.
Progressions
If transits are external triggers, progressions are the internal developments of your natal potential. They dictate how you respond to a transit at that moment in your life. The progressed Moon is the most noticeable progression, because it changes signs quickly enough to make a difference, but slowly enough so that you feel it (it takes about two to three years to move through one sign). As your core needs shift (according to the sign) sometimes that shift can extend the potency of a transit. For example, let's say you're being hit by a square from transiting Neptune to your Venus. You're hooked on the fantasy of a romantic union with Mr. Unavailable (who's married to someone else). The Neptune square finishes, but your progressed Moon enters Taurus (a fixed, earth sign). This progression is known to solidify whatever began when your progressed Moon was in Aries (which happened during the Neptune square). So even though the Neptune glamour is over, you're stuck in a place where you need to develop (Taurus) whatever came before. If your progressed Moon enters Pisces instead of Taurus, the effects of the Neptune transit might be drawn out due to your need to hook into that sense of endless possibility (even though the possibilities for this particular romance are clearly limited).
Breaking Free
Almost any astrologer will say that you have a choice in how you'll respond to transits and progressions. Sometimes it's incredibly difficult to make certain choices, but the final say is still yours. It can help to zero in on the transit that triggered it all, and see what natal planet was being hit; that's your starting point. From there, you'll need to tackle the issue according to the planet, sign and house involved.
For example, a natal planet in Scorpio (or aspecting Pluto) needs to hit rock bottom before amputation occurs. Once bottom is hit, there's nothing more to learn, and a death occurs. You move on and never look back. How sweet that would feel! That's not to say that you should push yourself (or the other person) to an unpleasant extreme. But you can try to look at the issue as a dead end. Are you getting anything more from the situation? Is there something else you could switch your attention to instead?  Approaching it in terms of survival can also help. You're stagnating, which is a kind of death for Scorpio/Pluto. In the case of Neptune/Pisces, sometimes all that's needed is a clear dose of reality to puncture the illusion. Really look at the person/situation, or get someone else to lay it out for you. If a progression is extending the life of your obsession, the progressed Moon changing signs can be your ticket out. Your progressed Moon moving from Taurus to Gemini can be a breath of fresh air. Suddenly, you have no patience for any fixation because there's so many other things to look at. Progressed Moon from Pisces to Aries can feel like being reborn, as your focus shifts to moving forward and looking after Number One (that's you, by the way).
If all else fails, a wake-up call like transiting Uranus (liberation) or Saturn (reality) through your 7th House — or aspecting the affected natal planet — can act like a brisk splash of disinfectant. Uranus transits bring clarity, usually by yanking you or the other person away and making it impossible for you to continue focusing on them. Saturn transits create limits/restrictions that act like a wall between you and your fixation. Sometimes that wall is your own obligations, which you've been ignoring. Know that no matter how compelling the attraction, you are not powerless. There is always a way out.
Related Posts:
If you like this post, please upvote it on Reddit.