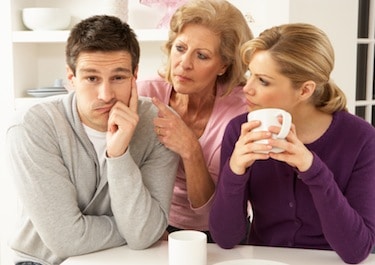 If you look at your natal chart and compare it to the charts of your immediate family (parents, siblings, etc) you will see patterns. Maybe one or two signs emphasized for everyone, or aspects between a certain outer planet to the inner planets of each person. These patterns are familial themes. You and your kin are the canvas on which an evolving astrological portrait is painted. With each generation, a new shade is mixed in, but some base colors remain the same.
You will probably see similar patterns in the charts of your partners. Lovers who are meant to play a significant role in your life will carry on that theme. This may not be fantastic news, especially if you're trying to distance yourself from unhappy family dynamics. The reality is, people are drawn to those whose energy resonates with their childhood experience. But this doesn't mean that you're doomed to repeat your parents' marriage. On the contrary, this is a chance to work through some of those dynamics.
[notpremise]
To read the rest of this article you must purchase a Lifetime All-Access Membership, which allows you to view the entirety of Sasstrology's archives for a one-time fee of $12.
All horoscopes and forecasts will always be free to the public. New articles are only viewable to the public for 30 days after publication.
All-Access Members, log in here.
[/notpremise]

Related: The Astrology of Marriage in the Royal Family
If you like this post, please upvote it on Reddit.