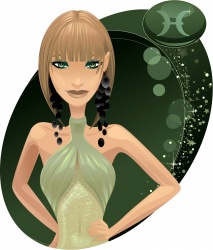 Merging never felt so good, or at least it does while Venus moves through Pisces. Love can feel positively divine when travelling through this most cosmic of signs. Surrender to the flow and let your feelings lead the way, otherwise you could find yourself trying to swim upstream. Pisces' foggy haze may not allow you to see very clearly now, but that's not what it's all about. As Venus travels through the sign of the fishes, it's time to give up and let go, allowing spirit to move you in matters of the heart.
Money matters may also seem divinely orchestrated now, for better or worse. No sense in trying to hang on to what you haven't got, so let go and let god when it comes to figuring out where you stand financially. Make the most of Venus in Pisces and trust in the universal flow of energy to bring you exactly what you need when you need it most. It may not arrive exactly on your timeline, but bigger forces are at work so all you need to do is get out of the way and let them do their job.
The original version of this article appears here.