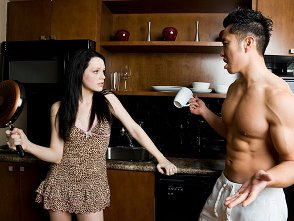 Imagine you have a live-in boyfriend or husband (or girfriend/wife). The house is a mess, a lightbulb needs to be replaced, your guy leaves his wet towel on the floor, you don't like how he chews his food. You meet another guy at work or while having drinks with "the girls," and start an affair. He's also married or in a long-term cohabitating relationship, so you have your dalliances in a motel room. This arrangement goes on for some time, but you wonder if it's "real." ("This isn't real" is uttered by Kate Winslet's character to Patrick Wilson's character in Little Children, after they have carried on an affair for a while.)
So much of a long-term relationship is the sharing of life on a day-to-day basis. The mundane, daily activities — grocery shopping, fixing up the house or apartment, taking the kids to soccer, reading the paper — are 6th house activities. They're routine.
The routine can be comforting — it is often what draws people into relationships (e.g., "I want someone with whom I can share my bed every night") — but it can also be stifling. Perhaps the question of whether an affair is "real" is whether this relationship can survive the 6th house experience. If you leave your boyfriend/husband for your lover and move in together, the habits might be different, but this is also when many of his flaws become apparent — those habits that annoy you.
The little details can be endearing, or they can drive you crazy.
Of course, you don't have to live together if you are in a long-term relationship, even if you're married. There are couples who choose to stay in separate residences so that the passion of their relationship isn't weighed down by the humdrum routine of daily life. But most couples choose to live together. An affair is appealing because the romance exists on another plane, in which you don't have to see each other brush teeth, wake up with bad hair, go through the stomach flu. Yet, could it be that as long as you haven't integrated the romance into your 6th house, you cannot know if it can move "to the next level?
The 6th house is situated between the 5th house of romance and the 7th house of marriage. Think of the 6th as the "living in sin" phase of a relationship. You know you're "in love" with each other (5th), but the only way you know you'll last as a couple (7th) is to go through the fire of the 6th.
Living together requires communication (Mercury). You and your partner were each brought up by your families-of-origin with a particular way of doing things, whether that's stacking dishes or leaving the toilet seat up or down. Inevitably, you and your new live-in partner have conflicts regarding these small ways of doing tasks. And the only way to resolve the conflict is by openly talking about it — unless, say, one of you decides to passive-aggressively let the other person do everything, and when you do take on a household chore, you do it wrong, making your partner re-do it. (The house opposite the 6th is the 12th, naturally ruled by Pisces. You could call this the "checking out" house.)
The danger of the 6th is that a relationship becomes subsumed/swallowed by daily tasks (walking the dog, talking about the kids, etc.) and loses its fire. One could call this regressive, for the 6th is a way to move on to the 7th. It becomes *integrated* into the marriage, but it does not *define* the marriage. The 7th is supposed to graduate into the 8th: the passion and mystery of coupling, the unveiling of deep psychological truths within the relationship to facilitate psychological healing. Perhaps some (or many?) couples fear this growth, and prefer to get hung up on the issues of the 6th. (Or maybe their inability to master the issues of the 6th prevent them from moving on to the 8th.)
Comment below: Has your 6th house issues in a relationship prevented it from moving forward?