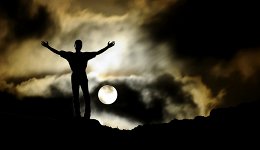 The primary reason men enter relationships is to get their emotional needs met. Though this may come under many guises — think the serial dater, the commitment-phobe, the root rat, the womanizer — each one of these men is just trying to get his needs met … and not just the sexual ones.
In the birth chart, the Moon is the main significator of the emotional self. By sign, house placement and planetary aspect, you can determine if a particular guy is on the same emotional page as you. Bridging the gap between the men from Mars and women from Venus mentality is easy when you understand what makes your man tick emotionally!
The element of the Moon will speak volumes about what maketh the man. The Moon will fall under one of the triplicities of Fire, Earth, Air or Water, and will demonstrate what your man needs in order to stay in a relationship.
Fire Moons — Aries, Leo, Sagittarius. The element of Fire is about taking action. Fire is passionate, intense and concerned with self-expression and individual identity. Fire signs feel threatened if personal freedoms are hindered or over-the-top boundaries are imposed. Fire Moons dislike being forced to compromise or modify their self-expression. They feel safe and nurtured when allowed to express themselves freely and authentically. Upfront and honest, you'll always know where you stand with a Fire Moon.
Earth Moons — Taurus, Virgo, Capricorn. Talk is cheap when it comes to Earth Moons. If your man falls under this triplicity, be sure to offer him firm boundaries and a loyal heart — that's exactly what he'll offer you. He likes practicality, reliability and lots of physical contact and tangible reassurance. Earth Moons can struggle if they feel pressured to act or make decisions — let him make up his own mind in his own time.
Air Moons — Gemini, Libra, Aquarius. These guys operate from the mental, social and intellectual plane, exploring ideas and concepts and making connections. Air Moons feel safe when they have an intellectual rapport with their partner. Reason, intellect and logic rule their emotional sphere, so the exploration or expression of deep emotions are generally lacking in the Air Moon man. If you want a guy who you can talk to and share your thoughts and ideas with, find an Air Moon!
Water Moons — Cancer, Scorpio, Pisces. Water Moons yearn for emotional connection and feel loved when they can share their feelings within a spiritually connected relationship. Feelings overrule logic and actions often seem impractical or hasty. Emotions are experienced deeply and intensely, so it may take a Water Moon a little longer to get over a lover's tiff!
Not sure what sign your man's Moon is in? Try some DIY astrology at astro.com.
About the Author
Cassandra Tyndall is an avid professional astrologer based in Sydney, who offers readings to clients locally, interstate and all over the globe. Known for her passion, skill and honesty, Cassandra combines traditional and modern techniques to enhance specific predictions for individuals, couples and businesses. She has been a regular contributor to the annual WellBeing Astrology Guide, and is the resident astrologer for Australia's Women's Health & Fitness magazine.
Related: Men's Moon Signs
Image Credit: © Francesco Carta | Dreamstime.com